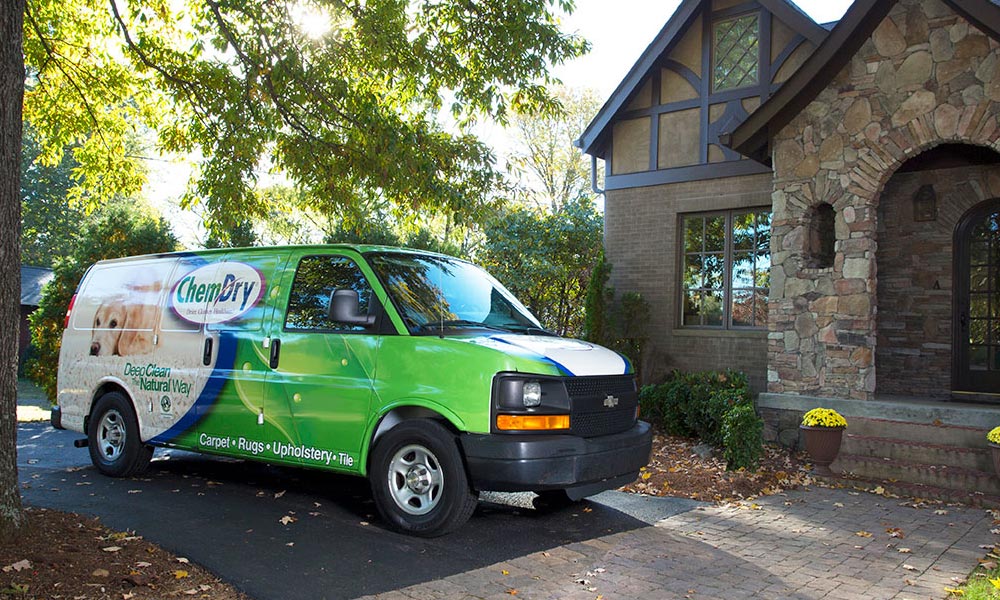 The Story of Chem-Dry of Allen County & Dennis Campbell.
A Better Way to Clean & A Cleaner Way to Live.
I spent years fighting to keep my home and work facilities clean, sometimes cleaner than a surgical operating room! In a manufacturing work environment (where I was employed at the time), it is critically important to do it right the first time. Even a small strand of hair, piece of fiber, speck of dust or trace amount of fumes in the air can result in a big problem.
It was during my time in the manufacturing industry I developed a unique skillset and comprehensive toolkit to produce consistent results. How? The simple answer is I applied excellent problem solving & improvement methodologies to processes and systems by tracing quality problems back to the root source and then eliminating them.
I discovered not all processes are created equal; the secret to success is a highly effective and robust process. It must be capable and controlled. It is futile and frustrating to try to achieve an end result with an incapable process. This principal is universal to all processes, including those used for cleaning.
At home, I knew there was a better way to clean carpets than by soaking them with hot water and soap and waiting 3-4 days for the carpet to dry.  Then there was the problem of seeing the spots return as the carpet dried, due to wicking.
In my quest for a solution I found that many processes used to clean carpets leave a sticky residue that only results in rapid re-soiling. Then I discovered the amazing power of Chem-Dry's Hot Carbonating Extraction System. That's why I pursued a franchise with Chem-Dry.  I wanted to help homeowners, but especially those with pets, kids, allergies and high housekeeping standards seeking high-value cleaning services. Today we have everything you need to properly maintain carpets, rugs and upholstery.
The challenge for consumers of Carpet Cleaning Services:

 The challenge for consumers dipping into the professional carpet cleaning services market is that it is divided between the (low-skill-Knowledge-capability) cleaning service competing at low-cost-points and low value added and a few highly (skilled-capable-knowledgeable) cleaning service companies at high-cost-points. The Greater Fort Wayne Metro area is no exception. You may be faced with a choice between a bunch of (forgive me) cheap carpet cleaners or a few high-priced steam carpet cleaners. There are well over 100 "carpet cleaners" in the Fort Wayne Area.  So be aware aware and use this information as a guide to get you the level of service, expertise and quality that is right for your home or business.
So I am very passionate (I live for this stuff!) about best value, excellence and quality performance benchmarks.
I specialized in providing leadership to manufacturing, driving quality at the source, lean manufacturing. I worked in Industrial clean rooms, some cleaner than a surgical operating room, for over 20 years. Looking back, I was a plant manager, superintendent, operations manager, staff industrial engineer, quality manager, manufacturing engineer and …. Ya da ya da ya da… yawn! One day I (Dennis – The Plant Manager) just walked away from that mean old manufacturing corporate world & never looked back!

 This is how Chem-Dry of Allen County came on the Fort Wayne scene and how it was discovered that best value pricing was not a thing and was made to be a thing. Chem-Dry of Allen County targeted for home-owners, busy working professionals, pet owners, families, working professionals who take pride in their work, people who do not want to repeat mistakes, people who want to get the most bang for their buck, people who do not know what to do but are coachable, people who want win-win relationships as opposed to win lose. People who value their health and that of their family, employees or coworkers. Which brings us back to the main point, the question(s): What do you need? How may we serve you best?
 A pet peeve of mine is so many Fort Wayne Carpet Cleaners claim to be the best in their marketing and webpages. They offer you & I absolutely no basis or results that qualify them as such. No wonder people are turned off by what they read and observe regarding the cleaning industry and many other industries. Far too often as consumers we see a marketing message that exceeds the ability of the company to deliver the promise. I truly believe Chem-Dry of Allen County is the best carpet cleaning service in The Greater Fort Wayne Metro Area and offer up the following as basis (partial):  (I am unaware of any other carpet cleaning service in the Greater Fort Wayne Metro area that comes close to any of these accomplishments). 
Carpet Cleaning Services Industry Awards, Certifications and Recognition: National, Regional and Local. 
Some of the results we have obtained since June 2006.
Best in State Finalist 2022.
Best in State Finalist 2021.
Finalist (Top 3) Perpetual Excellence 2020-19.
Finalist (Top 3) Excellent Customer Service 2019-18.
#1 Best Home Carpet Cleaning Service 2020, 2019, 2016, 2014
Fort Wayne Newspapers Readers Choice & Fort Wayne dot com.
Runner up in 2018 & 2015 Best Home Carpet Cleaning Service
#1 Best Home Water Damage Restoration Service 2016
Fort Wayne Newspapers Readers Choice & Fort Wayne dot com.
        Please note they dropped this category after 2016.
Runner up in 2014 Best Home Water Damage Restoration Service.
#1 Home Fabric Protectant & Treatment Service 2014 Fort Wayne Newspapers Readers Choice & Fort Wayne .com
(The last year they had this category). 
Circle of Excellence Awards 2020-2010
2010 Angie's List Super Service Award
2008 Bright Horizon Award - Chem-Dry National Convention
Member of Ethical Services.
Carpet & Rug Institute Seal of Approval Service Provider.
Carpet & Rug Institute Platinum Seal of Approval for our deep carpet cleaning system - Hot Carbonating Extraction. This is the highest award in the Industry.
Letters of Recommendation from The Nations leading carpet manufacturers. Available by request email deepest.clean@gmail.com with letters of recommendation request in the subject line.
I am a Master Technician with 15 years experience and over 7000 jobs. At the the level I am certified there are less than 650 of us in the world. Of those I have trained two others.
Chem-Dry's Mission:
We promise to delight you with the cleanest and fastest drying carpets and upholstery in the industry. The end result is sparkling clean, soft, fresh-smelling, fluffy and sanitary carpet, rugs and upholstery.
Chem-Dry's of Allen County's mission is helping people who live in the Fort Wayne Community to live healthier lives. Which begins with a healthier environment at home and work. And which starts with clean carpets and a healthy home. Indoor air polution is a real concern. Often the indoor air is many times worse than the outside air in the city. Carpets, Rugs and Upholstery help filter the air by catching and retaining particles much like the filter in your furnance or air filtration system. However, this particles and soiling must be released or removed from time to time.
Our proprietary hot carbonating extraction cleaning process penetrates deep into the fibers, removing an average of 98% of common household allergens from carpets and upholstery and 89% of the airborne bacteria in your home when a sanitizer is added.* Plus, our green-certified solution, The Natural®, contains no soaps or detergents so it's safe and non-toxic for your family & pets. And, Chem-Dry uses 80% less water than typical steam cleaning so carpets dry in hours instead of days, making it the safer and more convenient carpet cleaning choice. All of this means Chem-Dry of Allen County cleans for your health like no one else.
We love serving our customers here in our amazing community - The Greater Fort Wayne area.
Today I own four (4) Chem-Dry franchises. Serving 7 NE Indiana Counties.
Independently owned. Serving Allen, DeKalb, Huntington, Noble, Lagrange, Steuben & Whitley Counties (IN).
Here are links to the other three (3) Chem-Dry Franchises My Company Bee Noble, Inc. owns and Operates.
Chem-Dry of Allen County Contact Information:
deepest.clean@gmail.com
main business line (260) 490-2705
A Better Way to Clean. A Cleaner Way to live.
Get Your Free Quote Today!
Contact us to get a free quote and request a service appointment. We'll discuss your needs, provide you with a no-obligation quote and can begin the cleaning process at your convenience.