Carpet Cleaning Fort Wayne, IN Carpet Cleaners
Chem-Dry of Allen County offering  Professional Commercial & Residential Carpet Cleaning Services to Fort Wayne, IN.- Chem-Dry of Allen County is Your Healthy Home Authority offering you Superior Carpet & Upholstery Cleaning® that is Drier. Cleaner. Healthier.® for your home or business in Fort Wayne, New Haven, Leo-Cedarville, Huntertown or surrounding Allen County Areas.
Homeowners, Pet Owners and businesses hire us for best value, appearance and health reasons. They do so because they are frustrated, embarrassed or unhappy about a soiling condition in their home or business. They know we deliver the cleanest & fastest drying carpet & upholstery in the industry.  Serving residential and commercial clients in Fort Wayne, New Haven, Leo, Huntertown, Allen County and surrounding NE Indiana areas.
We offer convenient appointments and our phones are staffed 8AM-9PM Monday-Friday, 9-5 Saturday and 11-5 Sunday for your convenience and to assist you with carpet cleaning related questions, estimates, or booking your service. Just call (260) 490-2705 we do our best to answer as many calls live as possible. Our cleaning services are mostly by appointment. We offer arrival windows typically 8-10, 11-1, 2-4 Monday-Friday.
Chem-Dry of Allen County has won numerous awards for our 5-Star carpet cleaning, upholstery cleaning & water damage mitigation services. We offer Chem-Dry's patented hot carbonating extraction cleaning. Our process has been endorsed by the Nation's leading carpet mills.
To help you to learn more about our award winning carpet cleaning services and how we may best serve your Fort Wayne, IN home or business. Please select quick links (below).
A Chem-Dry of Allen County upholstery Cleaning will have your furniture looking and feeling like new. Our green-certified cleaner – engineered to be used with all kinds of upholstery, including some of the finest natural fibers and the hardiest synthetics – is safe and non-toxic. Similar to our carpet and rug cleaning process, Chem-Dry's carbonating process for upholstery lifts dirt and soil to the surface of your upholstery fabric with less water, meaning your upholstery dries faster and stays cleaner longer. A healthier choice for your Fort Wayne, IN based home or business upholstery cleaning.
We are your Fort Wayne based Chem-Dry Premium Rug Service Certified Professionals. What this means is we have completed written exams and hands on assessments for a wide variety of rug types. Extensive focus on rug inspection and pre-cleaning tests. Fringe cleaning experts with state-of-the-art product and equipment. Odor removal certification with proprietary products and processes. Recertificaton required every two years.  In addition, a state-of-the-art rug cleaning facilitly, proprietary rug cleaning equipment, specialized products formulated specifically for fine area rug cleaning and wool rug cleaning. Wool Safe Approved. Green Certified.
Specialty rug cleaning treatments include: Odor treatment, fringe cleaning, sanitizer, protectant, moth repellant.
Call today to schedule a pickup of your Greater Fort Wayne area area rugs, wool or oriental rugs.
If not treated properly the odor from pet accidents can travel through the entire home and impact your health and your happiness. Simple cleaning will not remove this odor. To help rid your home of the smells caused by pet urine, Chem-Dry of Allen County's Pet Odor Removal Service applies P.U.R.T. – specially designed to eliminate pet urine odors at their source. While other (competitors) cleanings only mask the odor, Chem-Dry's revolutionary Pet Urine Removal Treatment works at the molecular level and destroys the urine crystals to fully eliminate the odor. With P.U.R.T., your most severe pet urine odors can be solved and your carpet, rugs and upholstery can be saved. Chem-Dry of Allen County is hands down the best choice in The Greater Fort Wayne area for dealing with urine issues.
If you have kids or pets eventually you are going to have to deal with stains on your carpet, rugs or furniture. Even if you don't have children or animals roaming your home, stains are a part of life. When you come face-to-face with a tough stain in your carpet or upholstered furniture don't worry, the pros at Chem-Dry have just the solution for eliminating the staunchest of blemishes. Most spills and spots are easily removed with Chem-Dry's basic cleaning. However, occasionally difficult stains such as paint, lipstick, permanent marker, etc. require special treatment. Using an arsenal of safe and effective stain removal products with the most innovative equipment, Chem-Dry of Allen County can knock tough stains our of carpets, rugs, and upholstery for good. That's why we say, "If we can't get it out, no one can."
Chem-Dry of Allen County can renew the shine to your tile, stone and grout throughout your business or home. Our technicians use specialized cleaning solutions as well as powerful deep-cleaning extraction equipment to remove the dirt and build-up, increasing its longevity and refreshing the look of your facilities or residential tile-grout floors serving Fort Wayne, New Haven, Leo-Cedarville, Huntertown and The Greater Fort Wayne Area including Allen, DeKalb, Huntington, Steuben & Whitley Counties.
Carpet is now the number one floor covering in most commercial settings. The advent of cubicles and workstations means that fabric can cover many businesses from floor to ceiling. It's a big investment that needs to be protected. Chem-Dry's Hot Carbonating Extraction (HCE) is ideal for commercial carpet cleaning because our process uses 80% less water than typical steam cleaning, so your carpet will dry in 1-2 hours instead of 1-2 days. As the Healthy cleaner, Chem-Dry of Allen County can care for your upholstery, tile, spots/spills, odors, VCT and other commercial flooring surfaces. Our experts are prepared to give any commercial facility the deep-clean benefits that only come from Chem-Dry. Call us today to get a FREE estimate for your Greater Fort Wayne, IN based facility or business.
Leather furniture is an investment and requires proper care to prevent premature aging and drying. Chem-Dry's leather care specialists have the expertise to clean and restore your leather furniture to protect against spills, dirt, replenish the moisture it needs, and restore its clean, healthy luster. Call us today to schedule your leather cleaning in Fort Wayne, New Haven, Leo-Cedarville, Huntertown or surrounding areas. Including Allen, DeKalb, Huntington, Whitley and Steuben Counties.
Voted the best home water damage mitigation service in The Greater Fort Wayne, IN. Let our experts get the water out of your home or business.
LEARN MORE
A Healthier Home
Chem-Dry's mission is helping people live healthy lives starting with clean carpets and a healthy home. Our proprietary Hot Carbonating Extraction cleaning process penetrates deep into the fibers, removing an average of 98% of common household allergens from carpets and upholstery and 89% of the airborne bacteria in your home when a sanitizer is added.*
Our green-certified solution, The Natural®, contains no dirt attracting soaps or detergents so it's safe and non-toxic for your family & pets. And, Chem-Dry uses 80% less water than typical steam cleaning so carpets dry in hours instead of days, making it the safer and more convenient carpet cleaning choice. All of this means Chem-Dry cleans for your health like no one else.
LEARN MORE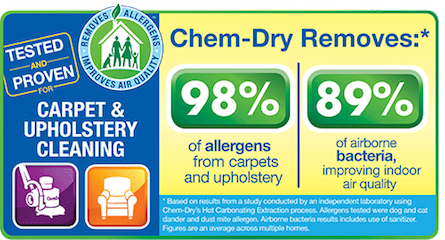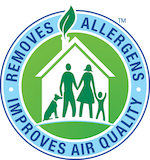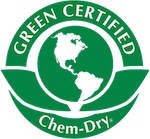 Get a Free Quote Today!
Click below to access our form and provide us with your contact information and any other information about your needs. We'll contact you soon to schedule an in-home appointment so you'll be on your way to a cleaner, healthier home!