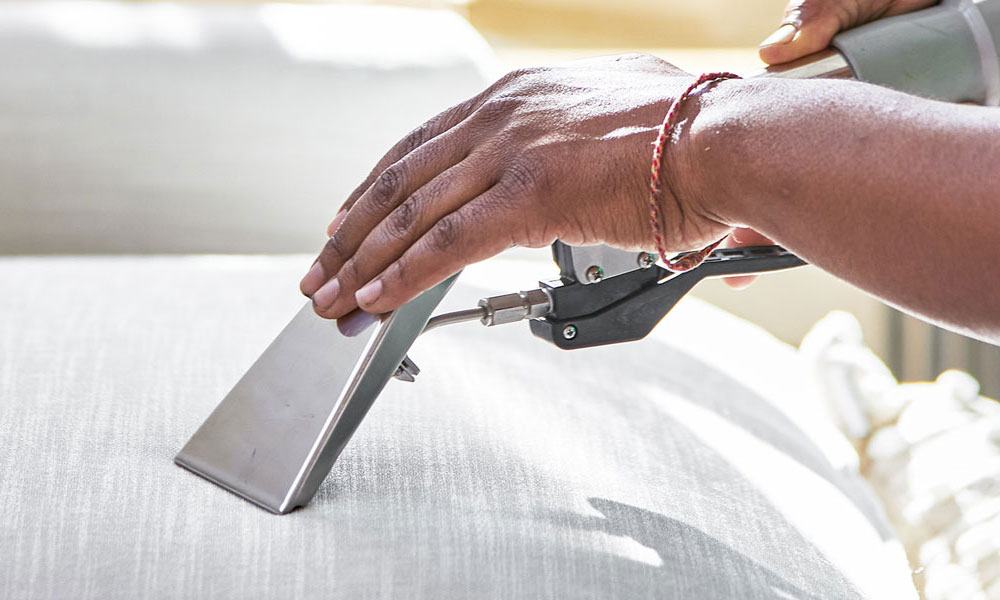 Upholstery Cleaning Fort Wayne, IN The Healthier, Deeper Upholstery Cleaner.
Upholstery Cleaning Fort Wayne, IN Upholstery Cleaner. The Healthier Deeper Carpet Cleaner. Offering you:
Best Home Upholstery Cleaning Services in Fort Wayne, IN.
Fabric Cleaning, Sanitizing & Protecting Services
Pet Urine Odor Removal from Upholstered Furniture.
Synthetic Fiber Upholstery Cleaning Services
Natural Fiber Upholstery Cleaning Services
Vinyl Upholstery Cleaning Services
Leather Clean & Protect Services

(Please mention Vinyl or Leather at time of booking)
Anti-Allergen & Dust-Mite Treatments available.
Green Upholstery Cleaning ECO Friendly
Healthy Alternative to Steam Upholstery Cleaning.
Your Healthy Home Authority in The Fort Wayne Metro Area.
Whether you have kids or pets, frequently host friends and family or simply are at home a lot, you know your upholstered furniture is getting a workout. Dust, pollen, germs, food crumbs, stains and blemishes can't be avoided. In fact, in homes that have carpet, up to 80% of the dust and dirt brought into your home could end up in your upholstered fabrics and furniture. But you don't have to accept the fact that your furniture is going to be dirty.
Let Chem-Dry of Allen County provide you with a refreshing upholstery cleaning & extend the life of your upholstered furniture or leather furniture. We will send you a professional upholstery cleaner to refresh and clean your furniture. Once our cleaning process is complete, your upholstered furniture will be dry quickly so it's ready to be used by you and your family again as soon as possible.
When you're looking for local upholstery cleaning in Fort Wayne, New Haven or any Allen County area you can count on us. We're a professional upholstery cleaning service company that provides a deeper, longer lasting clean and a healthier home. Our clients in Fort Wayne, New Haven, Huntertown & Leo areas that we serve have become long-time, satisfied clients. You can trust our professionally-trained, hard-working, friendly technicians to understand your specific needs and provide a cleaner, healthier home for you and your family.
Professional Upholstery cleaning services.
Natural & Synthetic Fabric Upholstery Cleaning Services.
Vinyl & Leather Upholstery Cleaning Services. (Please mention Vinyl or Leather at time of  booking)
Expert upholstery cleaning technicians.
Healthy Alternative to Steam Cleaning Service
Your Healthy Workplace Authority in The Greater Fort Wayne Community.
Professional Upholstery Cleaning Services in Fort Wayne, Indiana
Why Chem-Dry Upholstery Cleaning Services are best?
Fabric Type & Items we clean include (partial list):
Fiber Types: Synthetic or Natural Fiber, Vinyl or Leather.
Sofas, Loveseats, Sectionals, Ottomans, Recliners, Stools, Chaises, Oversized Chairs,                       Dining Room Chairs, Computer Chairs, Desk Chairs, Cushions, Pillows, Baby Seats, Car                   Seats and more.
What our Upholstery Cleaning Clients are saying:
"Dennis and his team are very thorough and will work with you until you are completely satisfied! They cleaned our couch & carpet and were very professional!" - Jon
"Chem-Dry did an amazing job on my furniture and carpets. His attention to detail was great. I would definitely recommend them & will be using them again in the future." - Brian
"Very Impressed...We have a futon mattress that is several years old, been in and out of storage, was going to toss it. I had it cleaned and it is like Chem-Dry bought a new mattress for me...can't believe it is the same one. Highly recommend Chem-Dry of Allen County Upholstery Cleaning Services. Dennis and his team are very professional and knowledgeable." - Nicholas
" I didn't think the stains would come out. Fast service, excellent job of cleaning my upholstery!" - Cindy
"Chem-Dry of Allen County was the best! We wanted to get our couch upholstery cleaned before our 2nd baby arrived and couldn't have been happier with the results! Not only did the couch come out great but it dried so fast! Will definitely use them again!" – Stephanie
"Over the last couple years, we've used Chem Dry of Allen County to clean not just our carpets, but our 12 year old leather couches too! I will never use another steam cleaning service again. The very fast dry time alone is worth it, not to mention they were able to give us a better clean, and remove pet odors so much more effectively! I've trusted them in our home even when we unable to be there, and can't say enough about the integrity of these guys!" - Ben
Clean Upholstered Furniture The Natural® Way.
When you decide to hire a professional upholstery cleaner, you may be concerned about the use of soaps or harsh chemicals that can leave a sticky residue and could be harmful to children and pets. With Chem-Dry, you don't have to worry about that. We use The Natural® – the same green-certified, eco-friendly, carbonated cleaning solution that we use to give your carpets that deep-down, healthier clean -- that also works wonders on upholstered furniture. That means Chem-Dry's upholstery cleaning process for furniture is safe for your entire family, dries faster and resists re-soiling.
Envision millions of tiny bubbles working away at breaking up the dirt and grime trapped deep within the fibers of your upholstered furniture so they can be easily whisked away. That's how our safe and non-toxic carbonated cleaning solution revitalizes your furniture for a fresh, healthier, longer lasting clean. Our certified upholstery cleaner will then use our specialized extraction equipment to remove the cleaning solution along with all of the dirt, dust, and allergens it has trapped from the air in your home, leaving your furniture brighter, cleaner, and healthier than other alternative cleaning methods. This deep-cleaning, healthier cleaning method works perfectly with all types of upholstered furniture materials. And because The Natural doesn't contain any soaps or detergents that can leave behind a sticky dirt-attracting residue, your upholstery stays cleaner longer.
Chem-Dry of Allen County was voted the areas #1 Home Fabric Care or Upholstery Cleaning Service in 2014. We were runner up in The Nation in 2016-17 for "Excellent Customer Service". Angie's List Super Service Award Winner 2010. We are dedicated to the pursuit of excellence. So much so, in 2020 we were a Top (3) Finalist for "Perpetual Excellence".  We have qualified for Chem-Dry's Circle of Excellence (Bet of the Best) for 10 years straight.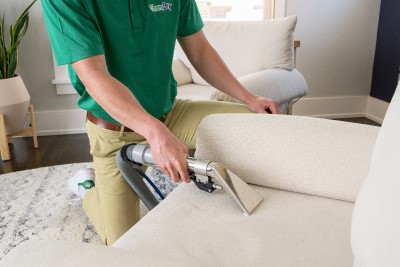 Our Upholstery Cleaning Process
Furniture cleaning doesn't have to use gallons of soapy water or harsh chemicals to be effective. Our Hot Carbonating Extraction cleaning process relies on the natural power of carbonation to achieve a deep clean. Millions of microscopic bubbles target dirt and grime deep in the fibers of your furniture and lift it to the surface where it is whisked away by our powerful extraction equipment.
The heart of this process is our Chem-Dry Green Certified cleaning solution called The Natural®, which is free from detergents, fragrances, and other harsh chemicals. Even better, our upholstery cleaning process uses around 80% less water than traditional steam cleaning, which means your furniture should dry in hours, not days.
Fight Upholstery Stains with Protectant
With the amount of use your upholstered furniture gets, spills are almost inevitable. Add kids or pets to the mix, and your furniture goes through a lot. Why not take a proactive approach to battle stains by having a protectant applied during your upholstery cleaning service?
Most furniture comes with a manufacturer-applied stain guard that tends to break down or fade over time. An application of our protectant can help restore it.
The protectant forms a protective barrier around upholstered furniture fibers. It will then repel a majority of stains, giving you a window of opportunity to soak up a liquid spill before it clings to the furniture fibers. Our protectants work with a wide range of furniture materials. One of our skilled technicians can advise you on the best choice for your furniture.
Defeat Stubborn Odors with Deodorizer
Refresh your clean upholstery with an application of our powerful Fresh-n-Free™ deodorizer. Our professional strength deodorizer reaches odors trapped within upholstery fibers and attacks them in multiple ways.
Fresh-n-Free causes chemical reactions that neutralize odors and also entraps odor molecules to easily extract them during our Hot Carbonating Extraction cleaning process. With this approach, odors aren't just masked – they're eliminated, leaving nothing behind but clean and fresh upholstery.
When you're looking for local upholstery cleaning services, look no further than Chem-Dry of Allen County. The upholstered furniture in your home like your sofas, love seats and chairs get a lot use and need to be cleaned too, just like your carpets and rugs. And if you have pets and children, your upholstery suffers and needs to be cleaned even more.
In addition to upholstery cleaning we offer rug cleaning, carpet cleaning and tile-grout cleaning to Fort Wayne Home's & Businesses. We specialize in fast-drying upholstery-cleaning and dealing with urine-odor in upholstery. Chem-Dry's exclusive hot carbonating extraction (HCE) upholstery cleaning with The Natural® - our main cleaning solution is Drier. Cleaner. Heathier.® for your commercial or residential upholstery cleaning here in the Fort or Greater Fort Wayne, Indiana area. Learn More ... Why Chem-Dry of Allen County 
Upholstery Cleaning Fort Wayne, IN The Healthier, Deeper Upholstery Cleaner.
Call Now to Schedule your upholstery cleaning services and be done!  260-490-2705
Book Upholstery Cleaning & Be Done!
Call (260) 490-2705 to get a ballpark estimate over the phone. We'll discuss your needs, provide you with a no-obligation ballpark estimate or onsite quote and can begin the upholstery cleaning service at your convenience. On the day of your upholstery cleaning your Chem-Dry of Allen County Upholstery Cleaning Technician will provide an exact written quote with optional services and recommendations prior to providing upholstery cleaning services.