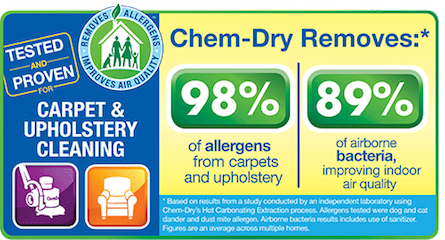 Upholstery Cleaning Fort Wayne IN Leading Upholstery Cleaners.
Superior Carpet & Upholstery Cleaning to Fort Wayne, IN.
 We are known as the #1 upholstery cleaning service in the Fort: 
We specialize in the deepest clean & fastest drying upholstery cleaning in the industry.
We specialize in removing 

pet-urine-odors

 in upholstery.
Whether you have kids or pets, frequently host friends and family or simply are at home a lot, you know your upholstered furniture is getting a workout. Dust, pollen, germs, food crumbs, stains and blemishes can't be avoided. In fact, in homes that have carpet, up to 80% of the dust and dirt brought into your home could end up in your upholstered fabrics and furniture. But you don't have to accept the fact that your furniture is going to be dirty.
Are you seeking Upholstery cleaning in or near Fort Wayne IN?

Would enjoy a faster-drying upholstery cleaning service that uses less moisture?

Perhaps you want a safe & non-toxic upholstery cleaning.

Maybe you would like a green upholstery cleaning solution that is eco-friendly?

How about Fort Wayne's top-ranked Upholstery-Cleaners?

Struggling with how to deal with spot cleaning your upholstery?
Let Chem-Dry of Allen County provide you with a refreshing upholstery cleaning & extend the life of your upholstered furniture or leather furniture. We will send you a professional upholstery cleaner to refresh and clean your furniture. Once our cleaning process is complete, your upholstered furniture will be dry quickly so it's ready to be used by you and your family again as soon as possible.
Our offer to you:
A superior upholstery cleaning solution.
Expert upholstery cleaning technicians.
Green Upholstery Cleaning ECO Friendly
What our Upholstery Cleaning Clients are saying:
"Dennis and his team are very thorough and will work with you until you are completely satisfied! They cleaned our couch and carpet and were very professional!" - Jon
"Chem-Dry did an amazing job on my furniture and carpets. His attention to detail was great. I would definitely recommend them and will be using them again in the future." - Brian
"Very Impressed...We have a futon mattress that is several years old, been in and out of storage, was going to toss it. I had it cleaned and it is like Chem-Dry bought a new mattress for me...can't believe it is the same one. Highly recommend Chem-Dry of Allen County Upholstery Cleaning Services. Dennis and his team are very professional and knowledgeable." - Nicholas
" I didn't think the stains would come out. Fast service, excellent job of cleaning my upholstery!" - Cindy
"Chem-Dry of Allen County was the best! We wanted to get our couch upholstery cleaned before our 2nd baby arrived and couldn't have been happier with the results! Not only did the couch come out great but it dried so fast! Will definitely use them again!" – Stephanie
"Over the last couple years, we've used Chem Dry of Allen County to clean not just our carpets, but our 12 year old leather couches too! I will never use another steam cleaning service again. The very fast dry time alone is worth it, not to mention they were able to give us a better clean, and remove pet odors so much more effectively! I've trusted them in our home even when we unable to be there, and can't say enough about the integrity of these guys!" - Ben
Clean Upholstered Furniture The Natural® Way
When you decide to hire a professional upholstery cleaner, you may be concerned about the use of soaps or harsh chemicals that can leave a sticky residue and could be harmful to children and pets. With Chem-Dry, you don't have to worry about that. We use The Natural® – the same green-certified, eco-friendly, carbonated cleaning solution that we use to give your carpets that deep-down, healthier clean -- that also works wonders on upholstered furniture. That means Chem-Dry's upholstery cleaning process for furniture is safe for your entire family, dries faster and resists re-soiling.
Envision millions of tiny bubbles working away at breaking up the dirt and grime trapped deep within the fibers of your upholstered furniture so they can be easily whisked away. That's how our safe and non-toxic carbonated cleaning solution revitalizes your furniture for a fresh, healthier, longer lasting clean. Our certified upholstery cleaner will then use our specialized extraction equipment to remove the cleaning solution along with all of the dirt, dust, and allergens it has trapped from the air in your home, leaving your furniture brighter, cleaner, and healthier than other alternative cleaning methods. This deep-cleaning, healthier cleaning method works perfectly with all types of upholstered furniture materials. And because The Natural doesn't contain any soaps or detergents that can leave behind a sticky dirt-attracting residue, your upholstery stays cleaner longer.
Our upholstery cleaning services are strong enough to clean the deepest stains, gentle enough not to damage furniture and safe for your entire family.
When you're looking for local upholstery cleaning in Fort Wayne, New Haven or any Allen County area you can count on us. We're a professional upholstery cleaning service company that provides a deeper, longer lasting clean and a healthier home. Our clients in Fort Wayne, New Haven, Huntertown & Leo-Cedarville areas that we serve have become long-time, satisfied clients. You can trust our professionally-trained, hard-working, friendly technicians to understand your specific needs and provide a cleaner, healthier home for you and your family.
Chem-Dry of Allen County was voted the areas #1 Home Fabric Care or Upholstery Cleaning Service in 2014, #1 Carpet Cleaning service in 2016 & 2014 Runner-up 2018 & 2015. We were a top runner up in The Nation in 2016-17 for "Excellent Customer Service". Angie's List Super Service Award Winner 2010. We are dedicated to the pursuit of excellence.
---
The Process
Chem-Dry provides a deeper, longer-lasting, healthier upholstery cleaning experience. Using a natural, green-certified carbonated cleaning solution that's heated to over 200 degrees, millions of tiny bubbles lift dirt, grime, dust and other allergens from the fibers of your upholstered furniture to the surface where they're easily whisked away. Since we use about 80% less water than typical steam cleaners, having your upholstery cleaned by Chem-Dry will result in a faster dry time and cause less disruption in your home,
Your Home
We know you have a choice when it comes to selecting an upholstery cleaning service. We promise to treat your home, your family and your pets with the courtesy and care you deserve. Our friendly, professionally-trained technicians understand that getting ready to have your furniture cleaned is a big deal, and they take pride in delivering superior, healthier results for your family and your home.
Tested and Proven Superior Results
Chem-Dry commissioned a leading independent laboratory to test the performance and healthfulness of our Hot Carbonating Extraction (HCE) cleaning process. The lab concluded that Chem-Dry's HCE process removes an average of 99.1% of common household allergens from upholstery. The allergens tested were dog and cat dander and dust mite allergen.
In addition, the lab found that our HCE process, used along with a sanitizer, removes an average of 89% of the airborne bacteria in the home, improving indoor air quality.
Chem-Dry uses the power of carbonation to lift dirt and soil to the surface of your fabric upholstery where it is sucked away using our powerful Chem-Dry cleaning systems. The secret to our drier, healthier upholstery cleaning is the millions of tiny effervescent bubbles in our green-certified cleaning solution, called The Natural®. Because our safe, non-toxic solution doesn't contain phosphates or detergents and doesn't leave behind a dirt-attracting residue, your fabrics will stay cleaner for longer.
Chem-Dry Offers Unique Advantages
Safe for all kinds of upholstery, including some of the finest natural fibers and the hardiest synthetics.
Safe for children and pets.
A money saver because Chem-Dry leaves no sticky or dirt-attracting residues, which can prematurely resoil your upholstery and require more frequent cleaning.
Great for auto interiors, boat interiors, office dividers, furniture and any upholstered item.
Chem-Dry's Fabric Protector shields your upholstery by forming a water and oil repellent barrier on the surface of your upholstery material.
---
When you're looking for local upholstery cleaning services, look no further than Chem-Dry of Allen County. The upholstered furniture in your home like your sofas, love seats and chairs get a lot use and need to be cleaned too, just like your carpets and rugs. And if you have pets and children, your upholstery suffers and needs to be cleaned even more.
In addition to upholstery cleaning we offer rug cleaning, carpet cleaning and tile-grout cleaning to Fort Wayne Home's & Businesses. We specialize in fast-drying upholstery-cleaning and dealing with urine-odor in upholstery. Chem-Dry's exclusive hot carbonating extraction (HCE) upholstery cleaning with The Natural® - our main cleaning solution is Drier. Cleaner. Heathier.® for your commercial or residential upholstery cleaning here in the Fort or Greater Fort Wayne, Indiana area. Learn More ... Why Chem-Dry of Allen County