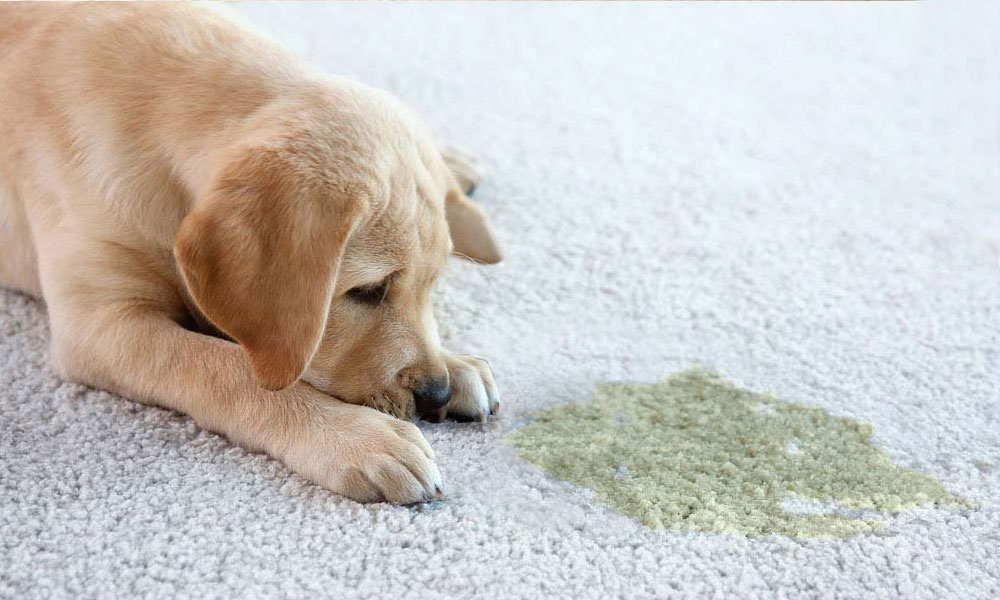 Urine-Odor Removal Fort Wayne Carpet, Rugs, Upholstery
We love our pets and we know you do, too! We are proud to offer the Fort Wayne area's most effective process to handle pet accidents. Our Urine-Odor Removal Service is very popular with our Fort Wayne clients.
Our Pet Urine Removal Treatment (P.U.R.T.) doesn't use perfumes to mask the smell, like some other products and services do. We eliminate the odor at the source, by exploding the urine crystals that cause the odors, so the smell is gone for good.
An independent laboratory recently conducted multiple tests of our P.U.R.T. process to determine its effectiveness in treating pet urine odors and stains. In tests against the most common odor sources found in dog and cat urine, this study found that P.U.R.T. removes an average of 99.9% of pet urine odors from carpets. To go one step further, the study also tested Chem-Dry's ability to eliminate the bacteria that can be found in pet urine. When used along with our HCE (Hot Carbonating Extraction) cleaning process and a sanitizer, the study found that P.U.R.T. removes an average of 99.2% of the bacteria from pet urine stains in carpets.
If not treated properly, the odor from pet accidents can travel through the entire home and impact your health and your happiness. The smell emitted from an accident area also often leads to repeat incidents in the same area until it is properly eliminated.
Pet urine in the carpet not only leaves an unsightly stain and an unpleasant odor, but it penetrates the fibers and contaminates both the carpet and the floor underneath. That's why it can require specialized cleaning, well beyond just a simple cleaning and treating. The longer an incident goes untreated, the more likely the urine odor is to permeate deeper and deeper into floors, walls and even the framework and foundation of the home. As the urine dries, the liquid evaporates but the urine crystals become even more concentrated and pungent. Simple cleaning will not remove this odor. To help rid your home of the smells caused by pet urine, Chem-Dry applies P.U.R.T. – specially designed to eliminate pet urine odors at their source. While most cleanings only masks the odor, Chem-Dry's revolutionary Pet Urine Removal Treatment works at the molecular level and destroys the urine crystals to fully eliminate the odor. With P.U.R.T., your most severe pet urine odors can be solved and your carpets, rugs and upholstery can be saved.
How P.U.R.T. Works
Our proprietary P.U.R.T. process is unparalleled in the industry. It's specifically formulated to break down molecules found deep in the carpet that are the source of the odors.
First, our trained professional will do an inspection of your carpets with a special ultraviolet light. This light exposes any problem areas and odorous urine deposits that may not be visible to the naked eye.
Next, the carpet will be rinsed with our deep cleaning, patented Hot Carbonating Extraction cleaning process to remove any liquid or loose urine crystals.
Then, we apply our amazing odor removal product, P.U.R.T., to each stain. P.U.R.T. travels deep into the carpet pad and even the sub-floor reaching areas that typical cleaning products or process cannot reach.
Once applied, P.U.R.T. goes to work breaking down all of the odor-causing elements over the next 24 to 36 hours. When each treated area has dried, the odor is gone for good.
At Chem-Dry of Allen County, our goal is to clean for your health and the health of your family. We provide a healthier, longer-lasting clean for a happier home. P.U.R.T. and our other Healthy Home cleaning products are safe and non-toxic for you, your children, and your pets.At Chem-Dry, we clean for your health like no one else.
About Our Pet Carpet Cleaning and Odor Removal Service
Our revolutionary pet carpet cleaning process is called Pet Urine Removal Treatment (P.U.R.T.®). It attacks odors at their source - deep in carpet fibers. Other methods can't do this and typically only mask odors with perfumes. P.U.R.T. causes a chemical reaction that destroys the urine crystals and eliminates the odors for good.
Proven Cleaning for Pet Stains and Urine Odors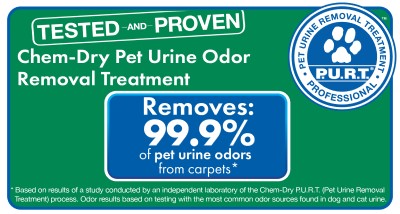 An independent laboratory conducted multiple tests of our Pet Urine Removal Treatment to determine its impact on pet urine odors.
In tests against the most common odor sources found in cat and dog urine, the study determined that P.U.R.T. removes an average of 99.9% of pet urine odors from carpets*.
These results definitively show that our P.U.R.T. process is much more efficient than store-bought cleaners and processes used by other pet carpet cleaning services.
Eliminate Pet Urine Odors
Dealing with pet accidents that you see is difficult, but what about those you may not be aware of until the smell hits? Our trained technicians use a special UV light to detect all pet urine accidents in your house, even those you might not have noticed.
If not treated properly when they happen, pet urine can soak your carpet fibers, backing, padding, and even the subfloor. As the urine dries, the liquid will evaporate, but the urine crystals left behind will become even more concentrated and pungent.
Simple cleaning and DIY methods won't be able to remove this odor. The Chem-Dry P.U.R.T. process attacks these odors at the source, causing a chemical reaction that breaks down all of the odor-causing matter in the 24 to 36 hours following application. P.U.R.T. is a pet odor cleaning method you can count on!
What our Clients Say about P.U.R.T.
"I have been using Chem Dry of Allen County as my exclusive carpet cleaner since 2005 and wouldn't ever use anyone else! I trust Dennis and his team to the fullest! When I got a puppy, Dennis was there with his PURT to get every little spot out that my little girl left while potty training. Awesome product! Awesome service! Dries fast and is so clean! Thank you!!!" - Arlene
"I have used Chem Dry of Allen County for 13 years. They are professionals who really care about my satisfaction. Whenever anyone asks me who I would recommend for carpet cleaning, this is the company I tell them about." - Nicole
"Chem-Dry of Allen County is a great company. I've used their service for years." - Char
"Dennis Campbell and his team with CHEM-DRY of ALLEN COUNTY (Allen County is important) are hands down the BEST ever! I think they're miracle workers when it comes to getting out stains, dirt & PET URINE completely (even upholstered furniture!). The carpet doesn't resoil like other carpet cleaners and its dry within 2 hours! It's also "green" & totally safe for my grandchildren as well as my pets." - Jan
We offer our P.U.R.T. service to The Greater Fort Wayne, IN area. Our professionally trained technicians will take care to inspect your home or business, identify any issues you may have and provide a free, no-obligation quote prior to beginning our service. Schedule your cleaning services today and you can get back to loving your pets, your carpets and your home! Contact us today (260) 490-2705 to get started.
Schedule a Free P.U.R.T. Home Inspection Today!
Contact us to schedule a free, in-home inspection for our P.U.R.T. process. We'll conduct a detailed review of your home, provide you with a no-obligation quote and begin the cleaning process at your convenience.