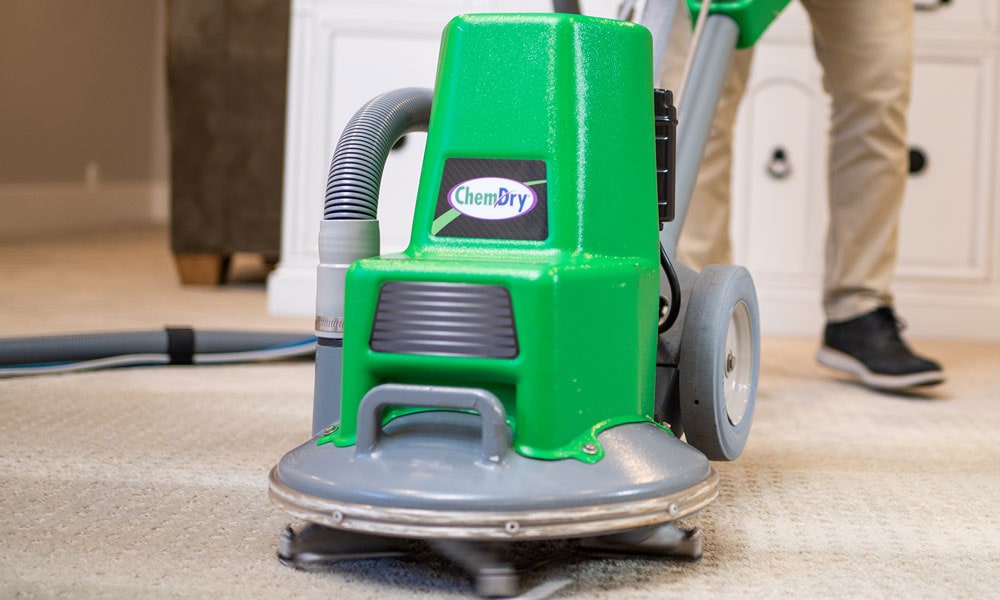 Fort Wayne IN Carpet Cleaning - The Healthier, Deeper Carpet Cleaner in Fort Wayne, Indiana
Carpet Cleaning Fort Wayne The Healthier Deeper Carpet Cleaner

Expert Carpet Cleaning Service

Fast-Drying Carpet-Cleaning Service

Kid & Pet Safe Carpet Cleaning Service

Green Carpet Cleaning Service
At Chem-Dry of Allen County we offer you a superior carpet cleaning solution and highly-trained carpet cleaning technicians. In addition to carpet cleaning we offer rug cleaning, upholstery cleaning and tile-grout cleaning to Fort Wayne Home's & Businesses. We specialize in fast-drying carpet-cleaning, typically 1-2 hours, and removing urine-odor in carpet. Chem-Dry's exclusive hot carbonating extraction (HCE) carpet cleaning with The Natural® - our main cleaning solution is Drier. Cleaner. Heathier.® for your commercial or residential carpet cleaning here in the Fort or Greater Fort Wayne, Indiana area.
The Home Carpet Cleaning Service Experts!
Homeowners, especially those with kids & pets hire us because they know we specialize in the deepest carpet cleaning available, the fastest drying carpet cleaning, removing urine-odors, carpet cleaning that is safe & non-toxic for kids & pets, treating special soiling conditions - like filtration lines aka expert residential carpet cleaning and green carpet cleaning. Our proprietary carpet cleaning process leaves your carpet sparkling clean, fresh smelling and dry in 1-2 hours not 1-2 days. Our proprietary process uses 80 to 90% less moisture (water) than steam cleaning by harnessing the power of a hot carbonating extraction cleaning solution which is totally effective for cleaning carpets. Chem-Dry's carpet cleaning process addresses the shorcomings of steam-cleaning carpet.
Chem-Dry of Allen County's carpet cleaning services were recognized as the areas top ranked Home Carpet Cleaning Service and for "Excellent Customer Service". Angie's List Super Service Award Winner. We are dedicated to the pursuit of excellence and providing you a 5-Star Cleaning experience. Our reputation is second to no other carpet cleaning service in the Fort Wayne area.
What our Carpet Cleaning Service Clients in Fort Wayne are saying
"The owner, Dennis Campbell, is a very honest and upfront business person. He does not over promise. What he does is deliver on what he says he will do. He will make you laugh will he cleans your carpets. We will be using him at all of our commercial and residential locations. " - David
" I've had Chem-Dry clean carpets, upholstery, and rugs for the last several years and have always been very happy. They are always very careful and take a lot of pride in their work. I would recommend them very highly!" - Cindy
"Chem Dry is the absolute best process for cleaning carpet. My RV looks and smells like new. Professional staff, excellent service provided, and all done for a good price. Would highly recommend to everyone. Thank you!" - Rayce
"Excellent service, dries so much faster than steam cleaning! We were able to use them for pet issues on carpet and furniture, came out great, no stains re emerged, took care of odors. Best carpet and upholstery cleaning we've used in a high traffic homes with a dog and 3 children. Won't use anyone else!" - Tina
Why Do Our Carpet Cleaning Clients Love our Service?
We are your Healthy Home Authority Carpet Cleaning Service Experts!
Pet Urine Removal Treatment (P.U.R.T.) Carpet Cleaning Service Experts.
Carpet Dry in 1-2 Hours
Safe & NonToxic for People & Pets.
Do The Job Right The First Time.
Convenient Carpet Cleaning Appointments.
Honest Pricing explained up-front (prior to providing service) no surprises.
  Do it Right THE FIRST TIME!
The Deepest Carpet Cleaning Technology Available Today.
Chem-Dry's cleaning process addresses the shortcomings of traditional steam cleaning carpet cleaning systems. To learn more about how we do that we have a video comparing our carpet cleaning process featuring Hot Carbonating extraction carpet cleaning to traditional steam cleaning carpet. Traditional Steam cleaning carpet tends to over wet the carpet resulting in long-dry times (days versus hours), wicking (spots returning) and sticky residue (surfactants) being left behind in your carpet. This sticky residue often results in the rapid resoling of carpet after cleaning. By the way sticky residue from soaps, detergents and shampoo are a common problem or challenge for the do-it-yourself carpet cleaners as well. We often hear the do-it-yourself carpet cleaning person exclaim: "It seems like the more I clean it the dirtier it gets!" Yes, this is true. The reason is the sticky residue and the lack of extraction in the do-it-yourself cleaning systems. You know the one's some people rent. These systems are ok for the occasional spot cleaning but not even close to what is required to deeply clean carpet.
Our Carpet Cleaning Process
Our innovative Hot Carbonating Extraction Process uses the natural power of carbonation to achieve a deeper, longer-lasting clean. Millions of tiny bubbles are sent deep into your carpets to loosen dirt, grime, and non-living allergens, then lift them to the surface where they are whisked away by our powerful extraction equipment. This is all done using around 80% less water than traditional steam cleaning, which results in faster dry times and less risk of mold or mildew growth due to wet carpets.
Chem-Dry Green Certified Cleaning Solution

The heart of our carpet cleaning process is a Chem-Dry Green Certified solution called The Natural®. Unlike the harsh chemicals and soapy detergents that other cleaners often rely on, our core cleaner is based on ingredients copied from Mother Nature and is one of the purest carpet cleaning solutions available. You can trust Chem-Dry to deliver a deeper clean that is safe for your entire family.
Remove Stubborn Odors from Carpets
From cooking to pets, your home is filled with odors that get trapped in the fibers of your carpet. Unfortunately, many of these odors can linger even after a professional carpet cleaning. Don't worry, Chem-Dry has a solution! An application of our Fresh-n-Free™ deodorizer attacks odors in multiple ways, ensuring that even the toughest odors are knocked out.
Our deodorizer causes chemical reactions that neutralize odors and also entraps odor molecules to easily extract them during our Hot Carbonating Extraction cleaning process. With this approach, odors aren't just masked – they're eliminated, leaving nothing behind but clean and fresh carpet.
If you have pets, you know that pet urine accidents are particularly pungent and typically require specialized treatment. Our revolutionary Pet Urine Removal Treatment (P.U.R.T.®) is unmatched in the carpet cleaning industry. Other cleaners often simply mask the odors with perfume, but an application of P.U.R.T. has been tested and proven to remove 99.9% of pet urine odors from carpets. Visit our Pet Urine Removal page to learn more about this service.
The Healthier, Deeper Carpet Cleaner in Fort Wayne, IN.
Other services:
Best in State Finalist 2022 Chem-Dry Carpet Cleaning Service.

Best in State Finalist 2021 Chem-Dry Carpet Cleaning Service.

The #1 Ranked Home Carpet Cleaning Service Fort Wayne, IN 2020, 2019, 2016, 2014 

The #2 Ranked Carpet Cleaning Service Fort Wayne, IN 2017, 2015. Per Fort Wayne.com & Readers Choice.

Circle of Excellence 2010-2022 Chem-Dry Carpet Cleaning Services. 

Top 3 Finalist in the Nations - "Perpetual Excellence" - 2019-20

Top 3 Finalist in the Nation - "Excellent Customer Service" - 2018-19

Rising Star Award Winner - national 2008 - Superior Carpet & Upholstery Cleaning Services - Chem-Dry

Angies List Super Service Award Winner 2010 - Home Carpet Cleaning Services 

Superior CARPET CLEANING PROCESS specializing in DO IT RIGHT THE FIRST TIME!

Deepest Clean Available Today HCE & 16 Pieces of Patented Technology NO ONE ELSE CAN OFFER YOU.
Book Carpet Cleaning.
Book carpet cleaning in Fort Wayne or Allen County areas. Phones staffed 8AM-9PM Monday-Friday, 9-5 Saturday, 11-5 Sunday. Call Now & be Done!