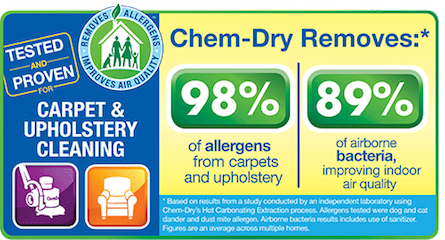 Carpet Cleaning Fort Wayne IN Fast-Dry Carpet Cleaning Expert Carpet Cleaning Services by The Fort's Leading Carpet Cleaners.
Fort Wayne Indiana's Leading Carpet Cleaners

Expert Carpet Cleaning Services

Fast-Drying Carpet-Cleaning

Kid & Pet safe Carpet Cleaning

Green Carpet Cleaning
At Chem-Dry of Allen County we offer you a superior carpet cleaning solution and highly-trained carpet cleaning technicians. In addition to carpet cleaning we offer rug cleaning, upholstery cleaning and tile-grout cleaning to Fort Wayne Home's & Businesses. We specialize in fast-drying carpet-cleaning, typically 1-2 hours, and removing urine-odor in carpet. Chem-Dry's exclusive hot carbonating extraction (HCE) carpet cleaning with The Natural® - our main cleaning solution is Drier. Cleaner. Heathier.® for your commercial or residential carpet cleaning here in the Fort or Greater Fort Wayne, Indiana area.
The Home Carpet Cleaning Experts!
Homeowners, especially those with kids & pets hire us because they know we specialize in the deepest carpet cleaning available, the fastest drying carpet cleaning, removing urine-odors, carpet cleaning that is safe & non-toxic for kids & pets, treating special soiling conditions - like filtration lines aka expert residential carpet cleaning and green carpet cleaning. Our proprietary carpet cleaning process leaves your carpet sparkling clean, fresh smelling and dry in 1-2 hours not 1-2 days. Our proprietary process uses 80 to 90% less moisture (water) than steam cleaning by harnessing the power of a hot carbonating extraction cleaning solution which is totally effective for cleaning carpets. Chem-Dry's carpet cleaning process addresses the shorcomings of steam-cleaning carpet.
Chem-Dry of Allen County's carpet cleaning services were recognized as the areas top ranked Home Carpet Cleaning Service and for "Excellent Customer Service". Angie's List Super Service Award Winner. We are dedicated to the pursuit of excellence and providing you a 5-Star Cleaning experience. Our reputation is second to no other carpet cleaning service in the Fort Wayne area.
What our Carpet Cleaning Clients in Fort Wayne are saying
"The owner, Dennis Campbell, is a very honest and upfront business person. He does not over promise. What he does is deliver on what he says he will do. He will make you laugh will he cleans your carpets. We will be using him at all of our commercial and residential locations. " - David
" I've had Chem-Dry clean carpets, upholstery, and rugs for the last several years and have always been very happy. They are always very careful and take a lot of pride in their work. I would recommend them very highly!" - Cindy
"Chem Dry is the absolute best process for cleaning carpet. My RV looks and smells like new. Professional staff, excellent service provided, and all done for a good price. Would highly recommend to everyone. Thank you!" - Rayce
"Excellent service, dries so much faster than steam cleaning! We were able to use them for pet issues on carpet and furniture, came out great, no stains re emerged, took care of odors. Best carpet and upholstery cleaning we've used in a high traffic homes with a dog and 3 children. Won't use anyone else!" - Tina
Why Do Our Carpet Cleaning Clients Love us?
We are your Healthy Home Authority 
Pet Urine Removal Treatment (P.U.R.T.) from Carpet Experts.
Cleaning urine from carpet is NOT a DIY project.
Carpet Dry in 1-2 Hours
Safe & NonToxic for People & Pets.
Do The Job Right The First Time.
Convenient Carpet Cleaning Appointments.
4X Guarantee
If you are not happy we'll rush back to clean again (within 1-7 business days).
No returning spots for 30 days (max.). We will come back for FREE.
If we can't get it out no one can (without damaging the carpet).
If after all the above and you have followed our recommendations and if you are still less than thrilled we will refund your money for the affected area or item no questions ask. The fine print ... if the three leading carpet mills exclude it from their warrant then we exclude it from ours. For example traffic lane gray, normal wear, shading, water marking, damage by property owner, ..etc. We reference Shaw & Mohawk warranties.
Honest Pricing explained up-front (prior to providing service) no surprises.
 Reputable (high quality) Carpet Cleaning Services.
Top 3 Finalist - "Perpetual Excellence"  2019 Chem-Dry Carpet-Upholstery Cleaning
#1 Carpet Cleaning Service Greater Fort Wayne Area 3x Runner-up 3x
Top 3 Finalist (National) - "Excellent Customer Service" 2017 Chem-Dry Carpet & Upholstery Cleaning.
Co-Application of Carpet Protectant (StainFighter Package) (like scotchguard only better).
10-Step CARPET CLEANING PROCESS specializing in DO IT RIGHT THE FIRST TIME!
Deepest Clean Available Today 16 Pieces of Patented Technology NO ONE ELSE CAN OFFER YOU.
Chem-Dry's cleaning process addresses the shortcomings of traditional steam cleaning carpet cleaning systems. To learn more about how we do that we have a video comparing our carpet cleaning process featuring Hot Carbonating extraction carpet cleaning to traditional steam cleaning carpet. Traditional Steam cleaning carpet tends to over wet the carpet resulting in long-dry times (days versus hours), wicking (spots returning) and sticky residue (surfactants) being left behind in your carpet. This sticky residue often results in the rapid resoling of carpet after cleaning. By the way sticky residue from soaps, detergents and shampoo are a common problem or challenge for the do-it-yourself carpet cleaners as well. We often hear the do-it-yourself carpet cleaning person exclaim: "It seems like the more I clean it the dirtier it gets!" Yes, this is true. The reason is the sticky residue and the lack of extraction in the do-it-yourself cleaning systems. You know the one's some people rent. These systems are ok for the occasional spot cleaning but not even close to what is required to deeply clean carpet.
The Process
Chem-Dry provides a deeper, longer-lasting, healthier carpet cleaning experience. Typical steam cleaning services use an excessive amount of water, which results in a much longer dry time and can lead to mold and mildew growth at the base of your carpets. Our proprietary Hot Carbonating Extraction cleaning process uses about 80% less water than steam cleaners and gets better results. Using a natural, green-certified carbonated cleaning solution that's heated to over 200 degrees, millions of tiny bubbles penetrate to the base of your carpets to lift dirt, grime, dust and other allergens to the surface. Then our powerful extraction equipment removes these unhealthy elements along with the most of the water. So your carpets are dry in 1-2 hours with Chem-Dry, compared to 1-2 days with most steam cleaners!
Your Home
We know you have a choice when it comes to carpet cleaners near your home. We promise to treat your home, your family and your pets with the courtesy and care you deserve. Our friendly, professionally-trained technicians understand that getting ready to have your carpets cleaned is a big deal, and they take pride in delivering superior, healthier results for your family and your home.
Tested and Proven Superior Results
Our Hot Carbonating Extraction (HCE) process was tested by a leading independent air quality laboratory in multiple homes. The lab found that Chem-Dry removes an average of 98.1% of common household allergens from carpets and upholstery. The common allergens tested were dog and cat dander and dust mite allergen.
Additionally, our HCE process, when coupled with a sanitizer, was found to remove an average of 89% of the airborne bacteria in the home and 82.3% of the bacteria in carpets.

Chem-Dry's signature cleaning solution, The Natural®, is a cleaning mixture that, through the power of carbonation, lifts dirt and grime to the surface where it is whisked away. The Natural is green-certified, safe and non-toxic so it's ideal for homes with kids and pets.
You can trust our deeper-cleaning, healthier carpet cleaning service to meet your needs and exceed your expectations. Chem-Dry is preferred by customers and professionals alike. The Carpet and Rug Institute (CRI) designated Chem-Dry as a company deserving of the CRI Seal of Approval for our innovative and unique hot carbonating system. This program identifies effective carpet cleaning solutions and equipment that clean carpet right the first time and protect a home or commercial facility's carpet investment. The blue and green CRI Seal of Approval is proof that you are investing in a proven, high quality service.
Chem-Dry of Allen County is Fort Wayne's Leading Carpet Cleaning Service also offering of