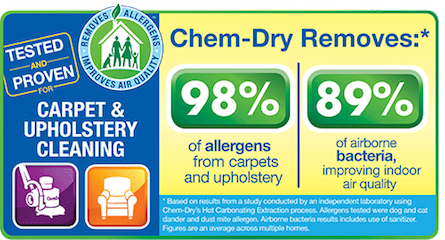 Upholstery & Carpet Cleaning Services Fort Wayne, IN.
Chem-Dry of Allen County Upholstery & Carpet Cleaning Services in Fort Wayne, IN.
Are looking for Upholstery-Carpet Cleaning Services in Fort Wayne IN?
We have the cleaning services you need to maintain carpet & upholstery in your home or business!
Carpet Cleaning,
Rug Cleaning,
We offer Both Residential Cleaning Services & Commercial Cleaning Services. We specialize in pet-urine-odors, fast drying carpet cleaning 1-2 hours. Chem-Dry of Allen County is Fort Wayne's #1 ranked carpet & Upholstery cleaning services company. Chem-Dry's exclusive hot carbonating extraction (HCE) cleaning system with The Natural® is Drier. Cleaner. Heathier.® So only Chem-Dry can say we offer you Superior Carpet & Upholstery Cleaning Services®.  Learn Why Chem-Dry?
There is just something about a clean home or business that brightens up the day and brings a smile to your face. A big part of that feeling of satisfaction comes from keeping the floors and upholstery fresh, clean and healthy.
When you choose Chem-Dry of Allen County for your carpet and upholstery cleaning needs, you're getting the industry's finest in cleaning equipment and solutions. We offer the trust and confidence of using the leading national brand combined with our friendly, local service. As a Chem-Dry professional, we are trained to deliver superior service and quality. Our goal is to help you spend less time worrying about whether your carpets and furniture are clean and safe and more time enjoying your family in a healthy home. Chem-Dry of Allen County's healthier, deeper cleaning process uses less water and a natural cleaner to give you the peace of mind of having a truly clean home that's safe for your kids and pets.
What Upholstery & Carpet Cleaning Services Clients in Fort Wayne are saying about us.
"The owner, Dennis Campbell, is a very honest and upfront business person. He does not over promise. What he does is deliver on what he says he will do. He will make you laugh while he cleans your carpets. We will be using him at all of our commercial and residential locations. " - David
" I've had Chem-Dry clean carpets, upholstery, and rugs for the last several years and have always been very happy. They are always very careful and take a lot of pride in their work. I would recommend them very highly!" - Cindy
"Chem Dry is the absolute best process for cleaning carpet. My RV looks and smells like new. Professional staff, excellent service provided, and all done for a good price. Would highly recommend to everyone. Thank you!" - Rayce
"Excellent service, dries so much faster than steam cleaning! We were able to use them for pet issues on carpet and furniture, came out great, no stains re emerged, took care of odors. Best carpet and upholstery cleaning we've used in a high traffic homes with a dog and 3 children. Won't use anyone else!" - Tina
Call us at (260) 490-2705 for your Professional Cleaning Service in Fort Wayne, IN or book the Best Cleaning Services online 24/7/365.  Learn more about our Home Carpet Cleaning , Commercial Carpet Cleaning Services.  rug, upholstery, tile cleaning, urine-odor-removal carpet or upholstery. Chem-Dry of Allen County Fort Wayne's #1 ranked cleaning service for upholstery, carpet or rugs.