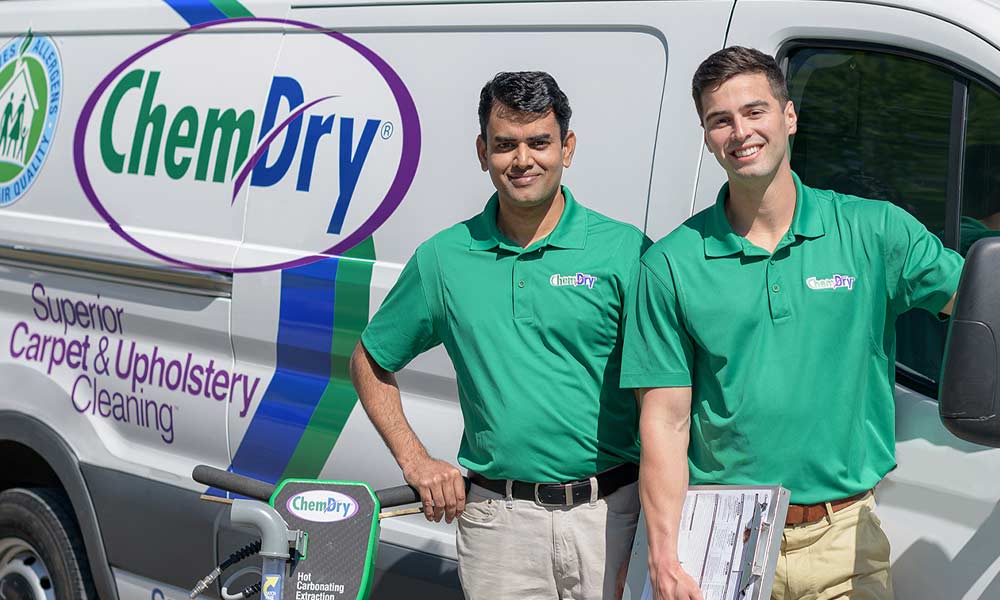 Carpet Cleaning Service Leo IN 46765 The Healthier, Deeper Carpet Cleaner
Residential & Commercial Carpet Cleaning Services by Chem-Dry of Allen County - serving Allen County, IN. We offer you Chem-Dry's proprietary deep carpet cleaing services - high quality carpet cleaning with our friendly & well trained carpet cleaning service technicians. Chem-Dry of Allen County specializing in Healthier Drier Cleaner carpet cleaning, Kid & Pet Safe, deep-thorough carpet cleaning service done right the first time.
Chem-Dry's Proprietary process addresses the shortcomings of traditional steam cleaning of carpet. From a process methodology view we just have a technically better solution which is coincidently a cleaner. drier. healther solution for your home or business. Our proprietary process is the deepest clean available in the industry & fast-drying carpet cleaning. 1-2 hours typical dry time for your conveniene. And NOT The 1-2 days you may have experiences with tradition steam cleaners. This is the reason that only Chem-Dry can say Superior Carpet & Upholstery Cleaning, We are your healthy home authority and We are Your Healthy Workplace Authority.
Watch videos about our carpet cleaning services on youtube. This video illustrates the power of our Chem-Dry HCE process on the ultimate carpet cleaning challenge as well as comparing how Chem-Dry Carpet Cleaning with HCE compares to traditional steam cleaning carpet.
We are specialist in removing pet urine odors from carpet, rugs and upholstery so no more struggling with dog, cat or human odors in your carpet. Urine in carpet is NOT a good do it yourself carpet cleaning or rug or upholstery cleaning project. We have a proprietary solution to this problem that really works and addresses the shortcoming of competitor products such as enzyme based treatments. To learn more about removing urine odor from your carpet or upholstery click here   
Chem-Dry of Allen County serving The Greater Fort wayne community since 2006 (15 years) with over 7000 cleaning service projects in local homes & businesses. Everything from a single small area, whole home cleanings, difficult soiling condition - frequently other cleaners refer us, to the largest commercial projects including multiple building or sites and maintenance agreements
commercial carpet cleaning clients. 
Much more than just a carpet cleaner. Having been recognized many times for our work here in this community, Chem-Dry of Allen County is a recognized-proven-leader & trusted expert in The "carpet cleaning" field or Industry at large.
We enjoy our work and the privilege of serving you. We invite you to engage our services. Please let us know if we may add value to you as you journey through the selection & decision process. You would be well served to book with us now and be on your way as we look forward to serving you in the very near future.
Read Google Reviews on left on our google listing (click here)   
or
reviews on our home page site (click here)
More Cleaning Services we can assist you with (fan favorite list) 
Whether you have kids or pets, frequently host friends or family or simply are at home a lot, you know your upholstered furniture is getting a workout, Dust, Pollen, Germs, Food, Crumbs, Stains, and Blemishes can't be avoided. In fact, a high percentage of the dust and dirt brought into your home could end up in your upholstered furniture. But you don't have to accept the fact that your furniture is going to get dirty. What better time to get your fabric furniture cleaned then when we are there cleaning your carpet or providing other services. The biggest mistake we see home or business owners make is waiting until the upholstery is extremely visibly soiled ...often that is too late to be safed. Most often upholstery  does not have stain fighting protection in it as your carpet. What this means to you is that it is a spot or stain can easily become permanent. So why take the chance. Give us a call today at 260-490-2705 to schedule your upholstery cleaning service in Huntertown or surrounding areas.
If you have allergies such as dust mites or other dust related allergies you would do well to consider upholstery cleaning on a regular schedule such as every 6-9-12-15-18 months as needed due to your conditions. In any case, you should plan to clean upholstery every 1.5-3 years. We have all seen what happens to a flat area that is not dusted for a long time. This same thing happens to upholstery and other surfaces throughout your home.
Best in State Finalist 2022 Chem-Dry Carpet Cleaning Service.
Best in State Finalist 2021 Chem-Dry Carpet Cleaning Service.
The #1 Ranked Home Carpet Cleaning Service Fort Wayne, IN 2020, 2019, 2016, 2014 
The #2 Ranked Carpet Cleaning Service Fort Wayne, IN 2017, 2015. Per Fort Wayne.com & Readers Choice.
Circle of Excellence 2010-2022 Chem-Dry Carpet Cleaning Services. 

Top 3 Finalist in the Nations - "Perpetual Excellence" - 2019-20

Top 3 Finalist in the Nation - "Excellent Customer Service" - 2018-19

Rising Star Award Winner - national 2008 - Superior Carpet & Upholstery Cleaning Services - Chem-Dry

Angies List Super Service Award Winner 2010 - Home Carpet Cleaning Services 

Superior CARPET CLEANING PROCESS specializing in DO IT RIGHT THE FIRST TIME!

Deepest Clean Available Today HCE & 16 Pieces of Patented Technology NO ONE ELSE CAN OFFER YOU.
Book Carpet Cleaning Service Leo, IN 46767.
Typically, Phone is staffed 8AM-9PM Mon-Fri, 9-5 Sat, 11-5 Sun for your convenience. We look forward to serving you!